Dana 60 GM/Dodge Interlocking Knuckle Kit

Special Price
$899.99
was
$999.99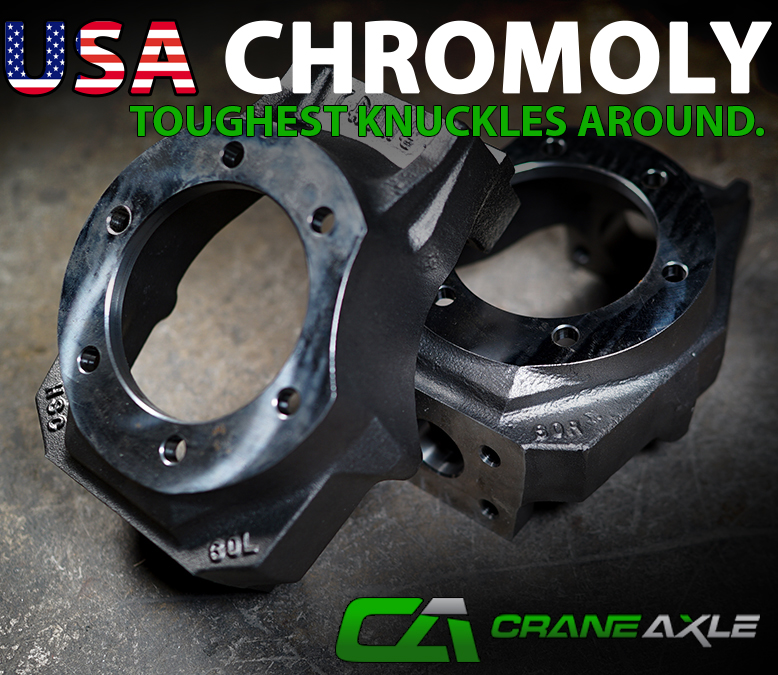 Crane Axle builds the ONLY 8620 Chromoly Steel outer knuckles on the market! Using 8620 Chromoly Steel instead of cast iron allows us to produce a lighter and stronger knuckle.
Crane's interlocking hi-steer arm design eliminates the need for a 5th or 6th bolt for strength. The Crane knuckle utilizes 9/16" hardware on the upper kingpin caps and steering arms.
Crane's Interlocking Outer Knuckle Kit includes:
(1 Pair) Crane Interlocking Outer Knuckles
(1Pair) Crane Interlocking High-Steer Arms
(1 Pair) Crane Kingpin Caps
Hardware
Why 8620 chromoly?
8620 alloy steel has a much higher carbon content than mild steel. The higher amount of carbon means increased strength. This material is characterized by a hard outer surface, combined with a ductile interior for higher strength. Minimum properties of 8620 (chrome-nickel-moly) alloy steel; Tensile Strength, psi: 97,000 Yield, psi 57,000. What does this mean for you? Our 8620 chromoly parts can take more abuse day in and day out then our competition, just ask anyone that uses them.
100% American Made
All crane products are made right here in the USA. This includes casting which is very important as it's a well known fact that castings produced here in the USA are a superior product.
Engineered by the pro's
Here at Crane Axle everyone in our company eats sleeps and bleeds off road performance. We have engineered all our products to withstand the constant rigorous abuse in high performance off road applications. We want to enjoy our time on the trail so we built parts that will take the abuse we inflict without fail.
The Crane Axle difference
CALL US!! We mean it, everyone here at Crane Axle has the knowledge to assist you with anything you may encounter. We stand behind our products and we believe that our customers deserve the very best, if you have any questions call us we are here to help you. 615-895-3954

Available Options:
The Premium Upgrade Kit:
1) Crane King Pin Spring Eliminator Kit
2) Upper King Pin Cones w/ Seals
2) Upper King Pin Bushings
2) Lower Bearings/Races and Seals
2) Lower King Pin Caps (

trunnions

) and Hardware
10) 7/16-20 Spindle Studs
Crane Axle Kingpin Inner C's:
Crane Axle's Dana 60 Inner C is a heavy duty replacement for bent/broken stock inner c or a new axle build. Crane's Inner C's are built out of 8620

Chromoly

steel for ultimate strength and light weight right here in the U.S.A.
Crane's Inner C's can be combined with our Interlocking Outer Knuckle Kits for ultimate strength and reliability. The inner c's can be

mig

or

tig

welded to your housing or axle tube.
Crane's Inner C can be run with stock outer knuckles or other aftermarket outer knuckles.
Crane Dana 60 Inner C's can be bored to custom sizes at an additional cost. They are 3" I.D. standard. IF YOU WANT A CUSTOM BORE SIZE, PLEASE ENTER SIZE IN BOX ABOVE. Must select to purchase Crane Axle Kingpin Inner C's above!
Comes with (2) Crane Axle Dana 60 Kingpin Inner C's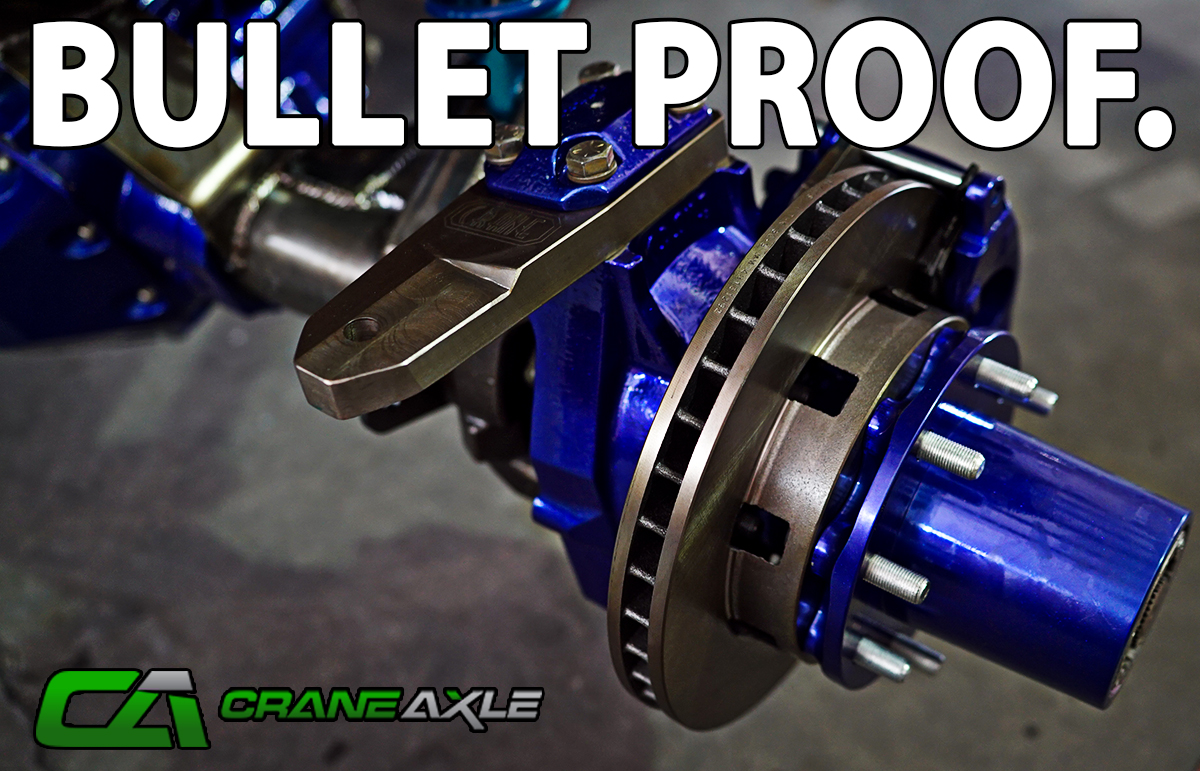 FITMENTS: This knuckle kit will fit any Dana 60 axle equipped with our Crane Axle Dana 60 Kingpin Inner C's. They will fit on only select OEM vehicles listed below:
OEM Fitments:
Dodge 1975-1993 3/4 ton (D-600/W-250/2500)
Dodge 1975-1993 1 ton (D700/W-300/W-350/3500)
Chevrolet 1977-1991 1 ton (K30/V30)
More Information

| | |
| --- | --- |
| Axle Compatibility | Dana 60 |